Trademark Claims Service
Domain labels for TMCH-registered trademarks are being monitored by the TMCH. If someone intends to register a string under a new gTLD that is identical to a trademark in the TMCH then he/she gets a warning of the fact that the desired string matches this term. Example claims warning: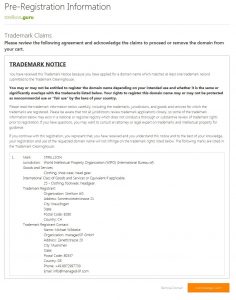 However, domain registration is not prevented. If the domain is registered, the TMCH will notify the trademark owner of this.
Claims service are active per default for the time a trademark is registered in the TMCH (as mandated by ICANN). Some TLD operators might offer additional services around this. The claims service only finds exact matches of a domain label, no variants.